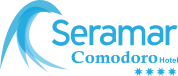 Services
At the Seramar Comodoro Playa Hotel, we know one thing for sure. What really lasts after a few days of rest are the feelings you've experienced. That's why we offer our facilities for the pleasure of our guests. Enjoy our pool or our chill out solarium, complete with a jacuzzi, while you contemplate the incredible sea views, have a drink on the bar's terrace feeling the Mediterranean breeze, or treat yourself with a breakfast or dinner right on the seafront.

We work hard to win you over through the palate, an art form only Mediterranean cuisine has mastered. Undoubtedly, your best chance to discover new flavours.

Let us take care of you with the most original creations, with local products and a constant search for quality. With all this in mind, you'll understand why more and more people visit the Balearic Islands.
Outdoor swimming pool

Going for a swim while contemplating the incredible blue Balearic sky is nothing short of an experience. Our water area is made up of a swimming pool that is one of the most outstanding features in the complex. It is located next to the bar so that you can have a drink while relaxing on the loungers and disconnecting.

Solarium terrace

Our hotel has strategically designed a space just for sunbathing. We have a solarium where you can get that bronze tone you're after while relaxing with a good book or immersing yourself in our jacuzzi.

City and electric bike hire

Any plans for the afternoon? After a day at the beach or the pool, you may want to go out and look around the area. We provide you with city and electric bikes so you can explore the streets in a different way.

Free WiFi

WiFi connection is a must. This is why all our facilities offer free Internet access so that you can get online on your smartphone or laptop.